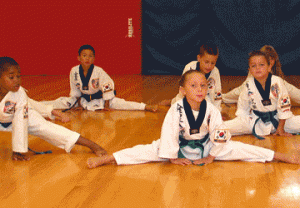 The children's classes at KumSung, besides teaching martial arts techniques and Asian culture and philosophy, are designed to teach the students through time tested techniques:
• Balance
• Coordination
• Self-discipline
• Self-esteem
• How to set goals
• Memory    Improvement
• Concentration skills
• Self defense
The students are taught self-defense with control not aggression. Each child is taught to their own personal best with comparison only to their own achievement.
Master KumSung takes interest in all students' progress in their school performance as well. The KumSung schools are busy places at report card time, as Master likes to review all students' report cards. The KumSung philosophy not only advances the students' physical skills but improves their focus and discipline. This filters down into other areas of their life outside of Karate including school.